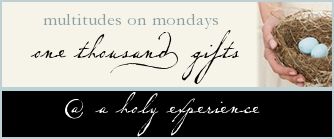 Well, I got off to a great start... One post and then I missed a week! It was Spring Break though and we went to the beach... But I didn't miss my journaling... What a gift it has been, I am learning SO much along the way...
So here are the moments that have captured me lately...
6. An idea when it comes together, better than expected!
7. Movies that make me smile.
8. The chance to say, "I love you more." (A game I play with my sweet husband...)
9. Blueberry waffles that make the kitchen smell like blueberry muffins!
10. The sun highlighting the edges of the clouds.
11. The constant song of the wind chimes on a windy day.
12. Birds singing in the trees at the start of the new day reminding me that His mercies are new every morning.
13. Things that make me sad because they remind me that God took my heart of stone and gave me a heart of flesh.
14. Desperate prayers with sweet sisters in Christ.
15. Songs that make you want to run!
16. Finished necklaces that surprise me!
17. Earrings with bead tassels that sparkle in the light.
18. Naming the moments... really digging deep and exploring what about a moment touches my soul... Finding descriptive words that give it life and meaning!
19. Sharing tears with a friend who is struggling.
20. Coming home to NO flashing light on the answering machine!
21. Great moments in movies that I'll watch the whole movie, again and again, just for that one moment... "You had me at hello." (Scott and I had a really fun conversation out of this one naming our great movie moments!)
22. A really bad situation that gives you a really GREAT story! It was a day that could have left us frustrated and ornery, but then my mom asked 'so what is the gift in today?' (We had been talking about this book...) I thought for about a second and then laughed because I knew the answer... A really GREAT story!
23. A smile that can still turn my insides to mush!
24. Teenagers who still like to hang out with their parents!
25. Sleeping late!
26. The sound of waves crashing on the shore.
27. Finding a new, warm snuggly sweater (and getting to buy it!)
28. Connecting with old friends.
29. Opportunities to show grace that become moments to giggle about!
I have a bunch more since I missed last week, but I think I'll do another post later in the week since this one is getting a little long... I'll have some photos to go with that post!!
Hope you had a wonderful Easter... So much to be thankful for!